DIY Crafts (2nd Edition): The 100 Most Popular Crafts & Projects That Make Your Life Easier, Keep You Entertained, And Help With Cleaning & Orga (Paperback)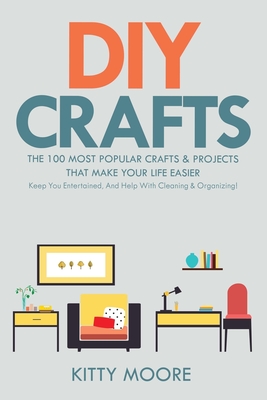 $14.95
Not currently in the store BUT we can probably order it for you
Description
---
This is the ONLY crafting book you will need, containing a variety of 100 popular DIY projects so you NEVER run out of craft ideas
What if you could have a book that has so many craft ideas and instructions, that you could reference it throughout the entire year for different DIY project ideas?
Imagine becoming an expert at crafting - turning your passion into a hobby - maybe even selling some of your creations on Etsy or at local markets
All of this is possible with these 100 very popular craft projects.
Multi-time best selling arts & crafts author and influencer, Kitty Moore, has put together her fans' favorite crafts from over the last few years and compiled this best selling book. One of the most popular influencers in the space, and incredibly popular on craft forums, blogs, social media, etc., Kitty has landed a winner here. Best of all is that she updates it each year, so you're purchasing the latest version for this year

If you're struggling with creativity and want some new craft ideas...
If you want to show off your "craftiness" or want to put your skills to good use...
Or if the idea of receiving a full list of ready-to-go crafts appeals to you...
THEN THIS BOOK IS FOR YOU
This book is the 2nd edition created by Kitty just for her fans - which means NEW & UPDATED crafts
In this book, you will get:
Images of all crafts so that you can follow instructions easier and see the finished product before beginning.

A comprehensive list of different types of projects so you have some variety in your crafting endeavors.

Detailed step-by-step instructions for each craft, so that anyone can follow along (even if you have never done crafts before)

Kitty's personal email address for customer support so you can reach out and ask questions

And much, much more...
So what are you waiting for? Get your copy of this book today by clicking the BUY NOW button at the top of this page