Wicca Herbal Magic: A Guide to Using Wonderful Herbs & Herbal Concoctions in Wiccan Spells & Rituals (Paperback)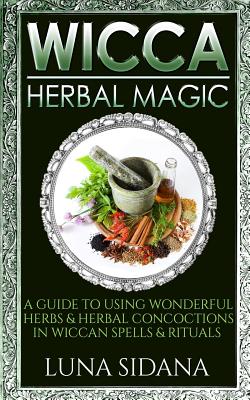 $15.98
Not currently in the store BUT we can probably order it for you
Description
---
A Clear-Cut Guide To Wiccan Herbal Spells And Rituals Do you want to learn how to make a herbal tea for emotional healing? Or how about a magical oil to attract wealth and prosperity? Working with herbs is one of the most rewarding and powerful ways you can practice magick. Living with a sense of harmony and deep respect for the natural cycles of existence is an essential part of the Wiccan lifestyle. Becoming closer to nature through working with her natural bounty helps to strengthen and focus our connection to the magick that surrounds us all. Each plant and herb hold their own energy and vibration - some are excellent for healing and cleansing, while others help to draw positivity toward you. By getting to know each plant and the subtle energies which sustain it, you can learn how to work powerful magick for yourself and others. Herbal magick is an important part of understanding and harnessing the subtle energies which surround us and make up the bedrock of the Wiccan belief system. Connecting to Gaia, along with the archetypes of fertility and plenty, directly aligns you with a deep and mysterious force. In This Book You Will Discover:
A concise history of plants and magic
A list of plants and herbs for magickal working
How to cast spells using plant matter
How to create and use smudging and incense
How to make magickal oils
How to make magickal teas
How to prepare magickal baths
How to create enchanted pouches
How to charge your herbs for magickal use
How to cultivate and store herbs for maximum potency
And more
Start exploring Wiccan herbal magic today.