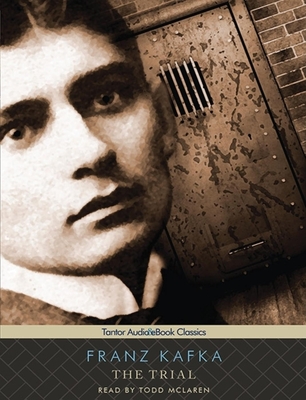 Description
---
First published in 1925, The Trial tells the story of a man arrested for an unknown crime by a remote, inaccessible authority and his struggle for control over the increasing absurdity of his life. One of Franz Kafka's best-known works, The Trial has been variously interpreted as an examination of political power, a satirical depiction of bureaucracy, and a pessimistic religious parable. Left unfinished at the time of Kafka's 1924 death, The Trial is nevertheless a trenchant depiction of the seemingly incomprehensible nature of existence and a fascinating exploration of the universal issues of justice, power, freedom, and isolation.
About the Author
---
Franz Kafka (1883-1924) was one of the major fiction writers of the twentieth century. Among his most well known stories are "The Metamorphosis" and "In the Penal Colony," and his novels include "The Trial" and "The Castle."

Former radio broadcaster Todd McLaren has been heard on more than 5,000 TV and radio commercials; narrations for documentaries on such networks as A&E and the History Channel; and films. His book narrations have earned him a prestigious Audie Award as well as a "Publishers Weekly" Listen-Up Award.