April Lady (Regency Romances #16) (Paperback)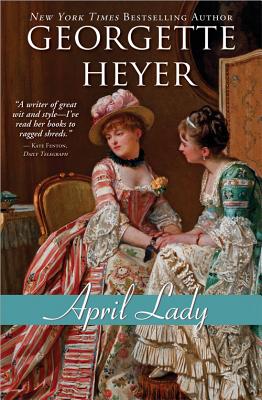 Other Books in Series
This is book number 16 in the Regency Romances series.
Description
---
"Graceful and exciting ... the best kind of 'escape' story." -LIBRARY JOURNAL
What seems a marriage of convenience...
When young newlywed Lady Nell Cardross begins to fill her days with fashion and frivolity, the earl has to wonder whether she really did marry him for his money, as his family so helpfully suggests. And now Nell doesn't dare tell him the truth ...
Is getting trickier all the time...
He thought he was marrying for love, but between his concern over his wife's spending sprees, rescuing her impulsive brother from one scrape after another, and attempting to prevent his own half sister from a disastrous elopement, it's no wonder the much-tried earl can't see where he's gone wrong ...
"Georgette Heyer has done it again ... It's the sheer fun of reading on a high entertainment level. For such an experience, April Lady is tops. It's downright delicious." -CHICAGO SUNDAY TRIBUNE
About the Author
---
The late Georgette Heyer was a very private woman. Her historical novels have charmed and delighted millions of readers for decades, though she rarely reached out to the public to discuss her works or private life. She was born in Wimbledon in August 1902. She wrote her first novel, The Black Moth, at the age of seventeen to amuse her convalescent brother; it was published in 1921 and became an instant success. Heyer published 56 books over the next 53 years, until her death from lung cancer in 1974. Heyer's large volume of works included Regency romances, mysteries and historical fiction. Known as the Queen of Regency romance, Heyer was legendary for her research, historical accuracy and her extraordinary plots and characterizations. Her last book, My Lord John, was published posthumously in 1975. She was married to George Ronald Rougier, a barrister, and they had one son, Richard.