The Corinthian (Regency Romances #4) (Paperback)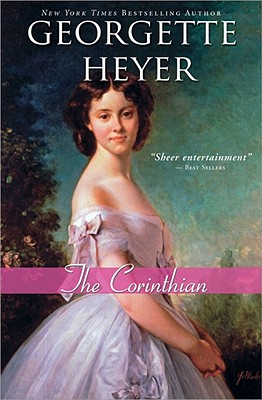 $16.99
Not currently in the store BUT we can probably order it for you
Other Books in Series
This is book number 4 in the Regency Romances series.
Description
---
"A writer of great wit and style...I've read her books to ragged shreds."-Kate Fenton, Daily Telegraph
A daring escape
Penelope Creed will do anything to avoid marrying her repulsive cousin. Dressed in boy's clothing, she's fleeing from London when she's discovered by Sir Richard Wyndham, himself on the verge of the most momentous decision of his life.
And a heroic rescue
When Sir Richard encounters the lovely young fugitive, he knows he can't allow her to travel to the countryside all alone, so he offers himself as her protector. As it happens, at that very moment Sir Richard could use an escape of his own...
What Readers Say:
"Marvelous screwball comedy and great romance "
"Light-hearted and fun, full of adventure and misadventure. But it is Heyer's style, much reminiscent of Jane Austen's, yet more colorful and engaging, that makes this book truly delightful."
"A sprightly handful of a heroine, an amused grey-eyed hero, and a colorful and diverse group of supporting characters...throw in a road trip, a murder over stolen jewels, and a mystery, and there's a little something for everyone."
"Triumphantly good...Georgette Heyer is unbeatable."-India Knight, Sunday Telegraph
"Her books sparkle with wit and style."-Publishers Weekly
About the Author
---
The late Georgette Heyer was a very private woman. Her historical novels have charmed and delighted millions of readers for decades, though she rarely reached out to the public to discuss her works or private life. It is known that she was born in Wimbledon in August 1902, and her first novel, The Black Moth, was published in 1921. Heyer published 56 books over the next 53 years, until her death from lung cancer in 1974. Heyer's large volume of works included Regency romances, mysteries and historical fiction. Known also as the Queen of Regency romance, Heyer was legendary for her research, historical accuracy and her extraordinary plots and characterizations. Her last book, My Lord John, was published posthumously in 1975. She was married to George Ronald Rougier, a mining engineer, and they had one son together, Richard.