Peace from Broken Pieces: How to Get Through What You're Going Through (Hardcover)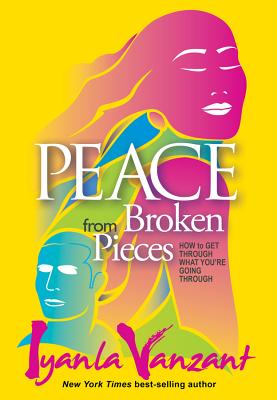 Description
---
New York Times best-selling author Iyanla Vanzant recounts the last decade of her life and the spiritual lessons learned—from the price of success during her meteoric rise as a TV celebrity on Oprah, the Iyanla TV show (produced by Barbara Walters), to the dissolution of her marriage and her daughter's 15 months of illness and death on Christmas day. Like a phoenix rising from the ashes, Iyanla shares why everything we need to learn is reflected in our relationships and the strength and wisdom she has gained by supporting others in their journeys to make sense out of the puzzle pieces of their lives.
About the Author
---
Iyanla Vanzant is the founder and executive director of Inner Visions International and the Inner Visions Institute for Spiritual Development. The author of five New York Times bestsellers and the Inner Visions CD Series—and the former host of the television series Iyanla and co-host of the NBC daytime reality show Starting Over.
In 2010, the award-winning author and spiritual life coach will host BET's Daddy's Home, a new groundbreaking television program designed to heal the broken relationships between fathers and their children—in real time.