Johnny's Girl: A Daughter's Memoir of Growing Up I (Paperback)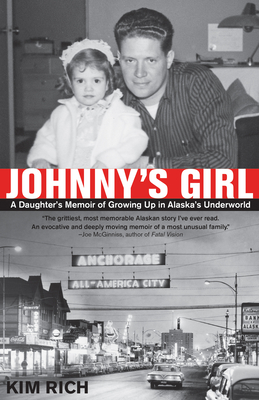 Staff Reviews
---
The Anchorage Mafia? Yup, you bet. Running gambling dens and strip clubs during the oil boom years. Kim Rich recalls growing up amidst the seedy folks of Alaska's largest city. Her dad was in the business, and she saw a lot. A fascinating look into Anchorage's history that they don't tell the tourists.
— From
Mary Ann's Picks
Description
---
Kim Rich was an ordinary girl trapped in an extraordinary childhood, someone who dreamed of going to parties and getting good grades while living in an after-hours hell of pimps and con men. Kim Rich longed for normalcy, yet she was inescapably her father's child, and she had no choice but to grow up fast. Her mother was a stripper and B-girl: her father was a major player in the underworld of Anchorage, Alaska in the sixties, a city flush with newfound oil money. Only after her father was gruesomely murdered and Kim became a journalist was she able to fill in the missing pieces of one American dream gone horribly wrong. Kim's true story is a tale of a woman's search for her parent's secrets. What she finds is both shocking and tragic, but in the end she's able to discover her true self amid the remnants of her parents' lost lives.
About the Author
---
Born in Hollywood, raised in Anchorage, Alaska and with an MFA degree in writing from Columbia University, Kim M. Rich has taught at Alaska Pacific University. She now lives in the lower 48, outside of Alaska.
Praise For…
---
"This memoir poses the question, 'Which offenses from our childhood are forgivable and which ones are not?' [Rich's] book is…the story of a gutsy child's survival, the kind that should go straight to the heart." 
---New York Times Book Review
"Rich does an amazing job of searching out legal and hospital records, plus letters and diaries of her dead parents, and of interviewing cops, lawyers, former B-girls, and family members,---all in a effort to lay to rest the ghosts within her…Compelling."         ---Kirkus Review
"Some books in the true crime genre transcend the formula, and JOHNNY'S GIRL does just that."
                                                       --- Los Angeles Times Book Review

"The grittiest, most memorable Alaskan story I've ever read. An evocative and deeply moving memoir of a most unusual family."
                                                        --- Joe McGinniss, author of Fatal Vision