Mushrooms of the Pacific Northwest (A Timber Press Field Guide) (Paperback)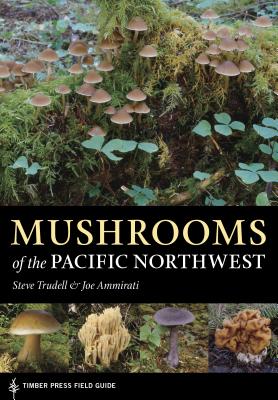 Description
---
"This beautifully illustrated guide presents descriptions and photographs of the region's most conspicuous, distinctive, and ecologically important mushrooms." —Chuckanut Reader
The Pacific Northwest is one of the best places to find mushrooms—they are both abundant and spectacularly diverse. This compact, beautifully illustrated guide presents descriptions and photographs of 460 of the region's mushrooms. In addition to profiles on individual species, 
Mushrooms of the Pacific Northwest
 also includes a general discussion and definition of fungi, information on where to find mushrooms and guidelines on collecting them, an overview of fungus ecology, and a discussion on how to avoid mushroom poisoning.
More than 500 superb color photographs
Helpful keys for identification
Clear coded layout
Covers Oregon, Washington, southern British Columbia, Idaho, and western-most Montana
Essential reference for mushroom enthusiasts, hikers, and naturalists
About the Author
---
Joe Ammirati is professor of biology and teaches mycology and botany at the University of Washington. His research focuses mainly on the classification and evolutionary relationships of the gilled fungi, particularly in the genus Cortinarius, but also includes mushroom biogeography and co-evolution, mushroom toxicity, and fungal diversity of arctic/alpine, boreal, and subalpine habitats. Joe is the scientific advisor to the Puget Sound Mycological Society and Pacific Northwest Key Council.
Steve Trudell is affiliate curator in the Burke Museum Herbarium at the University of Washington. He belongs to the Mycological Society of America, North American Mycological Association, and International Mycorrhiza Society. He writes for several mycological publications and frequently serves as foray mycologist and lecturer for mycological societies.
Praise For…
---
"Authoritative, thoughtfully organized, and filled with excellent photos." —SciTech Book News

"Hold on to your hats, mushroom lovers! This beautifully illustrated guide presents descriptions and photographs of 460 of the region's most conspicuous, distinctive, and ecologically important mushrooms." —Chuckanut Reader