Palmer, Alaska: Businesses and Buildings 1897-1970 (Paperback)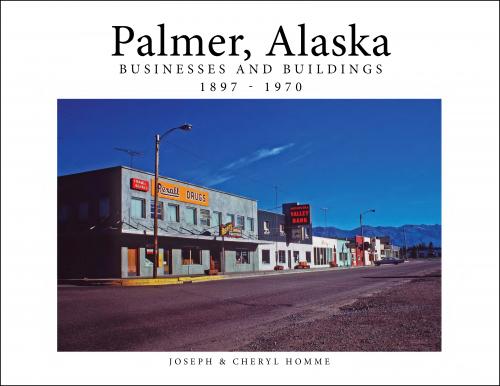 Staff Reviews
---
The Hommes say they started with a modest goal to answer some questions about what was where and when, and three years later they've produced a really impressive book that comes closer than anything else currently in existence to a definitive history of the town. The tight scope on which businesses and organizations operated out of which structures keeps things focused on the growth of downtown, but there's no shortage of stories there. There are three parts to the book: the text narrative, the photos, and the annotated aerial photos with tables which divide downtown into zones and list every enterprise in every structure up to 1970. Now, if you're my age, you can finally pin down all the landmarks your parents refer to that haven't been there since before you were born. (Turns out a lot of them moved several times, adding to the confusion.) The tables and the marvelous photos are worth the book price right there (and man, the print quality of this is beautiful), but the text tells the side of Palmer's history we rarely hear, that is, the other side of the tracks from the Colony. The Hommes are diligent researchers and sensitive storytellers, and even the one figure who could have come out a villain is treated fairly and the readers see his motivations. It's a really worthwhile read.
— Ruth
Description
---
A comprehensive and illustrated history of Palmer, Alaska's businesses and buildings, which also chronicles individual business owners and dates of business operation from 1897 to 1970. Discusses the challenges of operating a business during the frontier days of Alaska and the efforts by business owners to build and eventually incorporate the City of Palmer.
• 316 pages, fully indexed
• History and analysis
• 410 photographs, the majority of which are seen here for the first time
• An inventory and timeline of more than 1,000 businesses
• Biographical sketches of selected business owners

About the Author
---
Joseph and Cheryl are lifelong Alaskans and grew up in Palmer. Their previous books include: Cures and Chaos: The Life & Times of Dr. Vincent Hume and His Impact on a Frontier Alaska Town; Retro Romance: Classic Tips for Today's Couple; and Storybook Culture: The Art of Popular Children's Books.
Praise For…
---
Another fine work from Joe and Cheryl Homme, as they chronicle Palmer, Alaska's growth and evolution over many decades with a great amount of research and a stellar array of black-and-white and color photographs as to the buildings that stayed, or came and went, as well the various businesses that occupied those structures. This includes schools, homesites, and even rare photos of the interior of some.

This book brings back a flood of memories, and the rare photos answer a lot of questions. More than 300 pages of history you are sure to enjoy while having your memory jogged a bit.