Can You See What I See?: Seymour Makes New Friends: Picture Puzzles to Search and Solve (Hardcover)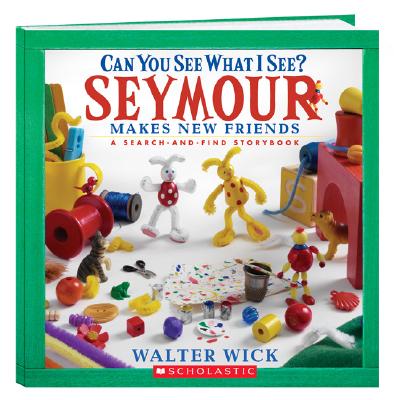 Description
---
Search-and-find fun---especially for preschoolers! From bestselling author/photographer Walter Wick.

In this sequel to SEYMOUR AND THE JUICE BOX BOAT, Seymour gathers beads, pipe cleaners, a craft stick, and a block to make two rabbit friends, and a seesaw to play on.

Preschoolers can use the picture clues and search for hidden objects in the colorful photographs of a play-town filled with toys.

Additional learning games are provided by an early childhood specialist.
About the Author
---
Walter Wick is the photographer of the bestselling I Spy series as well as the author and photographer of the bestselling Can You See What I See? series. He lives with his wife, Linda, in Connecticut.
Praise For…
---
Booklist 1
\\\\\\\\Wick, Walter. Can You See What I See? Seymour Makes New Friends. Feb. 2006. 32p. illus. Scholastic/Cartwheel, $8.99 (0-439-61780-4). 793.73.
PreS–K. Grab your preschoolers, find a comfy chair, and look sharp! Here's a new search-and-find storybook, a companion to Seymour and the Juice Box Boat (2004). Wick again pairs his camera eye with creative composition and inventive thinking to produce a fun, engaging picture puzzle. Each spread challenges the viewer to find specific objects as Seymour, a toy made from a wooden spool and beads, gathers pipe cleaners, craft sticks, and blocks to make two rabbit friends and a seesaw. Discussion questions provide assistance to adults using the book with the younger set and expand the book's usefulness as a learning game, even explaining how to make pipe cleaner animals. Ideal for preschoolers, who will want to "search and find" time after time. –Julie Cummins

WICK, Walter. Can You See What I See?: Seymour Makes New Friends. illus. & photos. by author. 29p. CIP. Scholastic/Cartwheel. Feb. 2006. Tr $8.99. ISBN 0-439-61780-4. LC 2005010331.
PreS-Gr 3–Wick serves up yet another search-and-find delight about the toy boy. On the title page, Seymour is reading a book called The Seesaw Bunnies and leaves home in search of some new pals. Readers are asked to spot visual items ("Can you see…?") as they follow him on his adventures through various toy scenarios until he makes a seesaw (from a craft stick and a block) and two new rabbit friends (out of beads and pipe cleaners). Children will enjoy the activity and may be inspired to construct some fanciful toys of their own. Filled with rhyming words and vocabulary builders, this story adventure is a winner.–Andrea Tarr, Corona Public Library, CA