Disappointment River: Finding and Losing the Northwest Passage (Hardcover)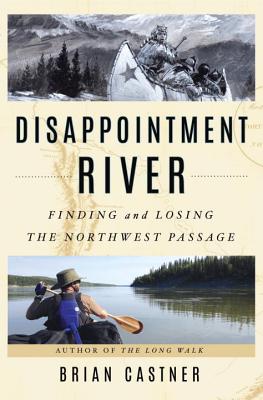 Staff Reviews
---
Ruth says: Castner canoed the entire Mackenzie River in summer of 2016, from Slave Lake to the Arctic Ocean. His strong writing makes short work of a long paddle, and he brings a profitable haul of stories from the territory, alternating his contemporary travelogue with the journeys of Alexander Mackenzie and other fur-trade voyageurs. Abandon notions of timeless wilderness! Mackenzie's grueling foray into the unknown in the cold of the Little Ice Age could have happened in another world, compared to Castner's sunburned and lightning-plagued trip in our hot century. Mackenzie thought he failed to find a Northwest Passage to the Pacific, but he was just 200 years too early for ice-free Arctic shipping routes.
Reading this will make you eager for the thaw so you can launch a canoe and go somewhere. I'm not quite as ambitious as Brian Castner, but I might paddle Palmer Slough all the way to the Pacific.
— From
Ruth's Picks
Description
---
In 1789, Alexander Mackenzie traveled 1200 miles on the immense river in Canada that now bears his name, in search of the fabled Northwest Passage that had eluded mariners for hundreds of years. In 2016, the acclaimed memoirist Brian Castner retraced Mackenzie's route by canoe in a grueling journey -- and discovered the Passage he could not find. Disappointment River is a dual historical narrative and travel memoir that at once transports readers back to the heroic age of North American exploration and places them in a still rugged but increasingly fragile Arctic wilderness in the process of profound alteration by the dual forces of globalization and climate change. Fourteen years before Lewis and Clark, Mackenzie set off to cross the continent of North America with a team of voyageurs and Chipewyan guides, to find a trade route to the riches of the East. What he found was a river that he named "Disappointment." Mackenzie died thinking he had failed. He was wrong. In this book, Brian Castner not only retells the story of Mackenzie's epic voyages in vivid prose, he personally retraces his travels, battling exhaustion, exposure, mosquitoes, white water rapids and the threat of bears. He transports readers to a world rarely glimpsed in the media, of tar sands, thawing permafrost, remote indigenous villages and, at the end, a wide open Arctic Ocean that could become a far-northern Mississippi of barges and pipelines and oil money.
About the Author
---
Brian Castner is a former Explosive Ordnance Disposal officer who received a Bronze Star for his service in the Iraq War. He is the author of two books, The Long Walk (2012) and All the Ways We Kill and Die (2016), and the co-editor of the anthology The Road Ahead (2017). His journalism and essays have appeared in Esquire, Wired, Vice, the New York Times, the Washington Post, the Atlantic, and other publications. The Long Walk was adapted into an opera that has been performed at prestigious venues nationwide.