Wild Swans: Three Daughters of China (Paperback)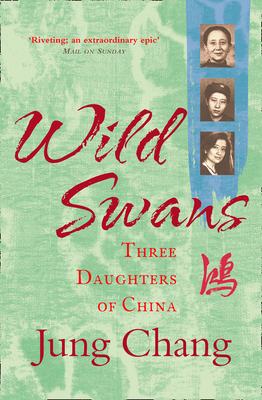 Staff Reviews
---
This is the best account that I have found that helps an outsider understand what the rise of communism in China was like for the every day person. From an American perspective, it can be really difficult to wrap your head aroiund what that transition would even look like.
The "Three Swans" are three generations of women in one family: the first was the grandmother, who was raised in Imperial China; the mother, who was young when communism rose in China, and was a member of the Communist Party; and then the daughter, who came to the US. All of the stories are true, passed down to the daughter, who is the author of the book.
For me, following the mother's story was the most fascinating part. You see how she was totally on board for communism at first, but then how her experiences changed her mind. There are specific accounts that were horrific, such as when the mother was pregnant and going into labor, but she was in the middle of having to walk hundreds of miles in the snow on a communist march and was unallowed to stop to rest ever. (Her husband actually ends up turning her into the authorities when he begins to suspect that she is losing faith in the communist message). Or when the communist government got people riled up to donate all of their materials that were made of steel (woks and other household items) so that they could be melted down and donated to the government (to the "people"), but how they were melted down wrong and therefore the whole thing had to be thrown out. Or when the government said that there was a mountain that had to be carved through in order to put a road through, but that the volunteer people did not know how to safely use dynamite, so hundreds were killed in the process.
This book is actually banned in China, so of course I had a wonderful time secretly carrying it while I traveled through northern China in 2011. I have found nothing better to give a perspective of what the rise of communism was like, and what it translates into today in modern China.
The control of information in China is baffling; most people do not even know the correct history of the rise of communism and what it was actually like.
— Mandy