Staff Picks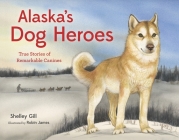 $10.99
ISBN-13:
9781570619090
Availability:
On Our Shelves Now
Published:
Little Bigfoot, 2/2014
Patsy Ann, Brown & Bruce, King David and Dugan (and others) are lesser known dogs who share space with Balto, Anna, Togo, and Stickeen in the collection of easy-to-read stories about Alaska's Dog Heroes.

Art appreciators will love it for Robin James' portraits of the dogs, images that are so well drawn that they seem to look back at the reader. Readers and listeners of the stories will appreciate Shelley Gill's retelling of the dog's stories.

A local teacher told me that her elementary aged students were uninspired until she read them this book where they perked up and embraced the stories, and then Alaska. Juneau "belonged" to Patsy Ann, the bull terrier who greeted boats. The Chilkoot Trail was remembered by stories of dogs helping to pull loads for the miners, specifically loads pulled by mastiffs and Saint Bernards like Julian, Susitna, and Kashwitna. Barrow was where Tramp and Red protected Feathers from a polar bear. The kids associated the stories with the geography and dog stories.

This book is great for reading out loud to your kids, or as an Alaskan souvenir for dog lovers!
---