Staff Picks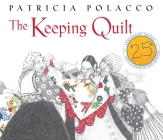 $17.99
ISBN-13:
9781442482371
Availability:
Usually Ships in 1-5 days
Published:
Simon & Schuster/Paula Wiseman Books, 8/2013
The Keeping Quilt is about the material and traditions that shape and bind a family. It starts with Polacco's Great Grandma Anna coming to America with her "heavy boots and thick coat" that she had worn for farming, her old dress, and a babushka that she liked to throw in the air when she danced. As she grew, her mother took her old dress and the babushka and joined them together with other old clothing from her family and created a quilt,  telling her that it would be like "family in backhome Russia" dancing around them when they used it.

The quilt becomes a character in the story, transforming into a picnic blanket, a Shabbat table cover, a huppa at weddings, a blanket for swaddling new babies, and a casket cover—outliving Anna and joining several generations and seeing old traditions get repeated and transform as the family expands and changes.

Aside from the great stories, Patricia Polacco's art alone makes this book worth art students buying so they can observe and appreciate her use of carbon and colors, and her unique way of presenting main characters, supporting characters, and long-gone characters.  

The 25 Year Anniversary Edition includes a few extra pages telling us the story of the new quilt that Patricia's daughter and son had replicated the old quilt. All in all, this is a great book worthy of literature fans, children, parents, and artists.


---