The Body Ecology Diet: Recovering Your Health and Rebuilding Your Immunity (Paperback)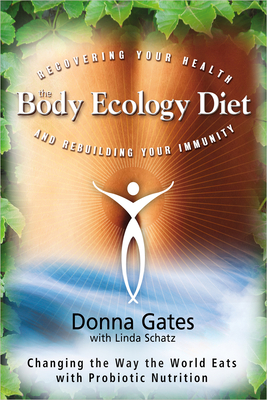 $15.99
Usually Ships in 1-5 Days
Description
---
If you're experiencing discomfort, fatigue, or other symptoms that won't go away no matter what you do or how many doctors you see, chances are you're one of the millions unknowingly suffering from a systemic fungal/yeast infection, "the hidden invader." The result of an imbalance starting in your internal ecosystem, this can be a key factor in headaches, joint and muscle pain, depression, cancer, food allergies, digestive problems, autism, and other immune-related disorders.
The Body Ecology Diet reveals how to restore and maintain the "inner ecology" your body needs to function properly, and eliminate or control the symptoms that rob you of the joy of living. Tens of thousands of people have already benefited from the Body Ecology way of life--Donna Gates shows you, step-by-step, how to eat your way to better health and well-being . . . deliciously, easily, and inexpensively
In this book, you will learn how to: use seven basic universal principles as tools to gain mastery over every health challenge you may encounter; focus on your inner ecology to create ideal digestive balance; conquer cravings with strategies for satisfying snacking and for dining away from home; and plan meals with dozens of delectable recipes, an array of menus, and detailed shopping lists.
About the Author
---
Donna Gates, a nutritional consultant, author, and lecturer, has helped thousands of people overcome candidiasis and other immune-system disorders. Drawing on the best of modern medical science, ancient Chinese medicine, and naturopathy--combined with years of firsthand experience counseling clients--she created Body Ecology, her own system of health and healing. Donna regularly appears on radio shows and conducts workshops to educate the public on medicinal foods.
Praise For…
---
A few years ago I attended a week long workshop with Donna Gates. It was an eye opening experience as she shared simple but powerful principles for attaining and maintaining a super healthy body. One of the most important things in the workshop was that Donna fed us breakfast and lunch. We were able to taste and experience how delicious the fermented foods were. Everyone enjoyed her way of cooking and delighted to take her recipes and probiotic nutrition home with them. I have been a follower ever since and at 84 am enjoying vibrant health.
- Louise L. Hay, the New York Times best-selling author of You Can Heal Your Life.

Body Ecology emphasizes the importance of what we put into our bodies and teaches a way of eating that makes me feel like I am in control of my health and in tune with my body's intuitive needs. Cultured vegetables and coconut kefir have become essentials, not only in my home, but whenever I travel.
- Jessica Biel, Actress.

Donna Gates has opened my mind up to new and amazing alternatives and possibilities to healing. Never did I know and fully understand the power food has in regards to healing the body. Not only is the book educational for a better life but the food is DELICIOUS! Who knew healthy food could be so good?!
- Tia Mowry, Actress.

Donna Gates has fused ancient wisdom with modern science to develop the most powerful eating program on the planet today. The Body Ecology Diet is a complete system of living that consciously brings the love of eating into your home. It's not about weight loss...it's about health gain.
- Dr. Darren Weissman, author of Awakening to the Secret Code of Your Mind.

I have seen Donna Gates and her Body Ecology program greatly improve health in all age ranges, from children with autism to healthy aging in senior citizens when they stick with the program for a few months. Her plant-based organic food diet, with an emphasis on fermented foods, is ideal for building a healthy intestinal tract, which is the foundation for optimum health and well-being.
- Leonard Smith, M.D., renowned gastrointestinal, vascular and general surgeon, and expert in the field of nutrition and natural supplementation.

While internet technology provides us with a myriad of information, a seeker often gets lost, confused, and overwhelmed. Such is the case faced by many of my patients who are in a quest to find answers to their physical and mental ailments. Donna Gates' 'Body Ecology Diet' is not only a succinct compilation of effective health information, equivalent to reading dozens of related books, it also provides a well versed program ushering the reader on a path to greater wellness. Donna's insights will shine a ray of light to many who are at lost.
- Dr. Taisuke Jo DC, DIBAK .

The Body Ecology Diet is easy to understand and chock full of practical information. I recommend it!
- William G. Crook M.D., author of The Yeast Connection and Chronic Fatigue Syndrome.

The Body Ecology Diet brings us into the era of whole-body therapy. I don't think the authors left anything out.
- Lendon H. Smith M.D., Author of Feed Your Kids Right, Feed Yourself Right, and co-author of Beyond Antibiotics.