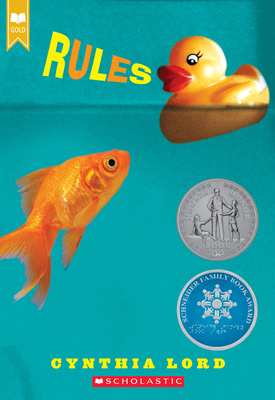 Description
---
This 2007 Newbery Honor Book is a humorous and heartwarming debut about feeling different and finding acceptance. Now in After Words paperback Twelve-year-old Catherine just wants a normal life. Which is near impossible when you have a brother with autism and a family that revolves around his disability. She's spent years trying to teach David the rules from "a peach is not a funny-looking apple" to "keep your pants on in public"---in order to head off David's embarrassing behaviors.
But the summer Catherine meets Jason, a surprising, new sort-of friend, and Kristi, the next-door friend she's always wished for, it's her own shocking behavior that turns everything upside down and forces her to ask: What is normal?
About the Author
---
Cynthia Lord is the award-winning author of RULES, a Newbery Honor book (among its many distinctions), as well as the critically acclaimed TOUCH BLUE, released August, 2010. She made her picture book debut with HOT ROD HAMSTER. She lives in Maine with her family. Visit her at cynthialord.com.